Clients and Peers Recommend Caplin & Drysdale in 2014 Legal 500 Ranking
07.01.2014
The Legal 500
Awards & Rankings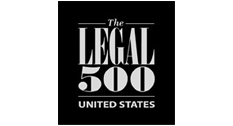 The Firm Marks Fifth Consecutive Year in the Ranking
WASHINGTON, DC—July 1, 2014: A survey of Caplin & Drysdale's clients and peers reveals that the Firm's primary practice areas and several lawyers have once again been listed for inclusion in the U.S. edition of The Legal 500 for 2014. This achievement marks the Firm's fifth consecutive year in the prestigious ranking.
Joining an elite group of "Leading Lawyers" are Marcus S. Owens for Not-for-Profit, Christopher S. Rizek for Tax Controversy, and H. David Rosenbloom for International Tax. All were previously listed in this category for 2013. Additionally, more than 20 attorneys from a cross-section of Caplin & Drysdale's practice areas were recommended for significant contributions in their respective fields of practice. Moreover, clients acknowledged the Firm's primary practice areas:
- Corporate Restructuring/Bankruptcy: "No job is too complex for them to master."
- Domestic Tax: East Coast: "The level of service is outstanding."
- Employee Benefits/Executive Compensation: The group's "industry knowledge is outstanding."
- International Tax: "Very responsive and timely."
- Not-for-Profit: "A real leading firm in the field of exempt organizations."
- Tax Controversy: "Among the best in the country."
Recommended attorneys include:
Related Practices/Industries