Caplin & Drysdale Named Top Tier Firm for Tax Controversy
FOR IMMEDIATE RELEASE
CONTACT: Marketing / marketing@capdale.com
Legal 500 Recognizes Firm's Core Practice Groups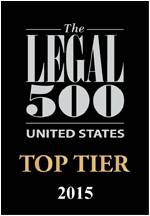 WASHINGTON, DC — June 8, 2015: The 2015 U.S. edition of The Legal 500 names Caplin & Drysdale a Top Tier Firm for Tax Controversy and bestows "Leading Lawyer" status for a third consecutive year to H. David Rosenbloom for International Tax and Christopher S. Rizek for Tax Controversy. "Our continued appearance in The Legal 500 ranking reflects the importance we place on having strong client relationships and an uncompromising, high level of service from our team," said Firm President Beth Shapiro Kaufman. The ranking assesses the legal strength of law firms and highlights the legal teams who provide the most cutting edge and innovative advice to in-house counsel.
Client comments below further demonstrate Caplin & Drysdale's proven advocacy for the best interests of their clients' business, personal, and legal challenges in the U.S. and abroad.

- Tax Controversy: "The crème de la crème of U.S. tax controversy, with extremely client-friendly lawyers."
- Not-for-Profit: "An excellent reputation for its work with exempt organizations."
- International Tax: "Outstanding, responsive, and pleasant to deal with."
- Employee Benefits/Executive Compensation: The group "is bolstered by its renowned tax expertise."
- Corporate Restructuring/Bankruptcy: "A top choice for unique cases."
Recommended attorneys and practice groups include:
Tax — Tax Controversy (Tier 1)
- Mark D. Allison (New York)
- Mark E. Matthews (Washington)
- Scott D. Michel (Washington)
- Christopher S. Rizek (Washington)
- Charles M. Ruchelman (Washington)
Finance — Not-for-Profit (Tier 2)
- William M. Klimon (Washington)
- Mark E. Matthews (Washington)
- Douglas N. Varley (Washington)
Tax — International Tax (Tier 3)
- Mark D. Allison (New York)
- J. Clark Armitage (Washington)
- Peter A. Barnes (Washington)
- Patricia Gimbel Lewis (Washington)
Labor and Employment — Employee Benefits/Executive Compensation (Tier 4)
- Patricia Gimbel Lewis (Washington)
- Richard W. Skillman (Washington)
- Joanne C. Youn (Washington)
Finance — Corporate Restructuring/Bankruptcy (Tier 6)
- Elihu Inselbuch (New York)
- Peter Van N. Lockwood (Washington)
- Trevor W. Swett, III (Washington)
Related Practices/Industries