Caplin & Drysdale Welcomes 2021 Caplin-Swanson Diversity Fellow Roxanna Abdoli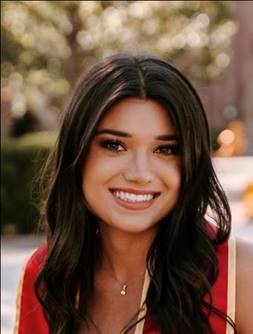 Caplin & Drysdale is pleased to announce and welcome Roxanna Abdoli, our 2021 Caplin-Swanson Diversity Fellow. Roxanna just completed her first year at Georgetown University Law Center and is the firm's second Caplin-Swanson Diversity Fellow.

During Roxanna's first year at Georgetown, she was accepted into the Business Law Scholars program and served as 1L Delegate for the Corporate and Financial Law Organization. As a Business Law Scholar, Roxanna will take courses involving income tax, corporate tax, international tax, corporate finance, and accounting. She is also a member of the International Refugees Assistance Program, Women's Legal Alliance, and Antitrust Law Organization. Prior to law school, Roxanna graduated from the University of Southern California with a B.A. in Journalism and Political Science, worked directly under the Deputy Campaign Manager on Governor Gavin Newsom's campaign, and served as a legal intern in Phoenix, AZ and Los Angeles, CA.
Roxanna will take part in our 2021 Summer Associate Program starting June 1. The firm's first Caplin-Swanson Diversity Fellow, Brooke Radford, has also returned this year as a summer associate.
The Caplin-Swanson Diversity Fellowship honors the actions taken by two men of great character, our Firm's founder Mortimer Caplin and Gregory Swanson, the first Black person to study law at the University of Virginia. In 1949, Mortimer Caplin was a young law professor who successfully rallied the entire law school faculty to admit Gregory Swanson to the University of Virginia School of Law. When the University's Board of Visitors rejected the law school's decision, Gregory Swanson fought and won the right to enroll in 1950. Mr. Swanson's case helped lay the foundation for Brown v. Board of Education. Years later, when Mr. Caplin was Commissioner of the IRS, he hired Mr. Swanson to be an IRS attorney. Mr. Swanson worked at the IRS until his retirement in 1984. His determination in overcoming obstacles to achieve his educational and intellectual goals—in defiance of, and by overcoming, racist policies—sets an example and a model for all.