Amanda Leon Takes Home Multiple Awards in Prestigious International Tax Law Competition
04.21.2017
Awards & Rankings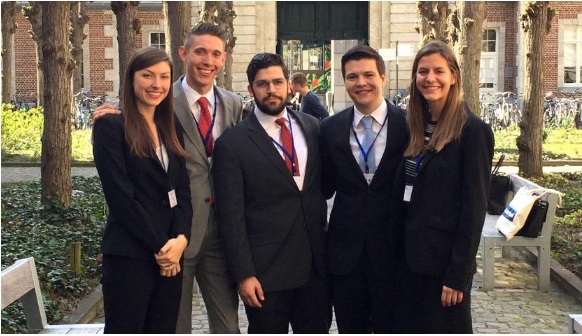 Amanda Leon, a third-year law student who will be joining Caplin & Drysdale as an associate in the fall, won two prizes at the International and European Tax Moot Court competition in Belgium. Ms. Leon (pictured above on left) was part of a team that won Best Pleading Team, which is awarded for highest overall oral argument scores. Ms. Leon and fellow student Jonathon Wilson also won Best Oral Team for the Defendant. This was the first time the University of Virginia School of Law (UVA Law) fielded a team for this competition.
"It was fun seeing everyone's competitive nature come out in Belgium after so many hours of preparation at the Law School, and I think our oral pleadings and our awards really reflect that fire," Leon said. "Our success is undoubtedly attributable to the strength of the tax faculty here at the school."
The annual competition, organized by the International Bureau of Fiscal Documentation and the University of Leuven (KU Leuven), in conjunction with the multinational professional services firm Deloitte, is the only moot competition of its kind in the world. Top professors, judges and lawyers brought their global expertise in taxation to bear on the simulated court proceedings, which were held March 26-April 1.
Earlier this year, a paper Ms. Leon wrote on EU taxation won first place in the International Fiscal Association USA Branch 2016 Writing Competition. After graduation, she will work for Caplin & Drysdale, a Washington, D.C., law firm that specializes in tax law. UVA Law alum and former IRS tax commissioner Mortimer M. Caplin '40 founded the firm.
Please visit UVA's website for more information.